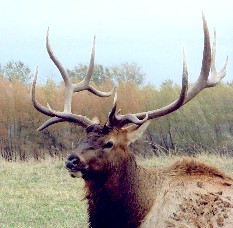 Terms of Harvest:
The rate will be according to size of Trophy Elk you wish to harvest, based on the Gross Boone and Crockett Score.
For your one to two day harvest adventure, no hidden charges! Our rates include for one hunter: lodging, meals, guide, and field dressing of your successful harvest.
Black powder gun, rifle, or archery equipment is permitted for your harvest.
No licenses or permits are required.
You will be required to sign a Hold Harmless Agreement.
Payment Terms:
A $500.00 nonrefundable Deposit Payment is required by personal check, money order, bank draft, or travelers check to book your harvest.
Sorry, personal checks are not accepted just prior to actual harvest.
You are welcome to bring Non-Harvesting guests at $75.00 per night each.
Rates:



Rates for a
Trophy Bull Elk Harvest:





Rates for a
Trophy Cow Elk Harvest:


Gross Boone &
Crockett Score Based
Please Ask or Call
Elk Cows
Please Ask or Call
Also Available:
Processed Elk meat.
Whole, half, and quarters.
Please contact us for availability
and current prices.

Game meat is often higher in dietary cholesterol than domestic meats, but the combination of having more lean body tissue, generally fewer calories, and a higher percentage of cholesterol-reducing polyunsaturated fatty acids...it just makes sense that game meat could be a more heart-healthy choice.

Good Fat - Bad Fat
Species
Saturated
(bad fat)
% Fatty Acids
Monounsaturated
Polyunsaturated
(good fat)
Beef
46.3
45.5
8.2
Whitetail Deer
45.6
30.6
23.9
Elk
48.4
26.6
24.9

Plus, generally the EPA content in Game meat can be significantly higher then the EPA of common domestic meat. EPA is thought to reduce the risk of developing arteriosclerosis, one of the major causes of heart attack and stroke.

1992 Source: North Dakota State University and U.S. Department of Agriculture

For more Information & to make Reservations, Phone, Write, or Email Us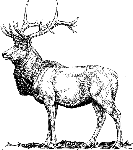 Little Valley Ranch
Tom & Connie Kleven
5099 38th St SE
Medina, North Dakota 58467 U.S.A.
Phone: 701-486-3485



Home of Trophy Rocky Mountain Elk Bulls and Trophy Northern Bucks harvests for hunters hunting for a successful harvest.